The Rainer Hersch Orkestra
MINI ORCHESTRA SHOW
9-20 Musicians + Rainer
From 10 mins to a full concert with interval
One of Rainer Hersch's most exciting musical adventures features him as conductor of his own nine piece orchestra with a zany offering of musical comedy and wit guaranteed to have the audiences rolling in the aisles. Rainer Hersch and his classical 'Orkestra' communicates, connects and corrupts some of the great works of classical music. A popular highlight is when Rainer invites members of the audience to participate in a conducting competition with hilarious results!
"Whether you are a professor of piano or couldn't tell a string quartet from a string vest, this is :the funniest concert you will ever see" (Time Out, London)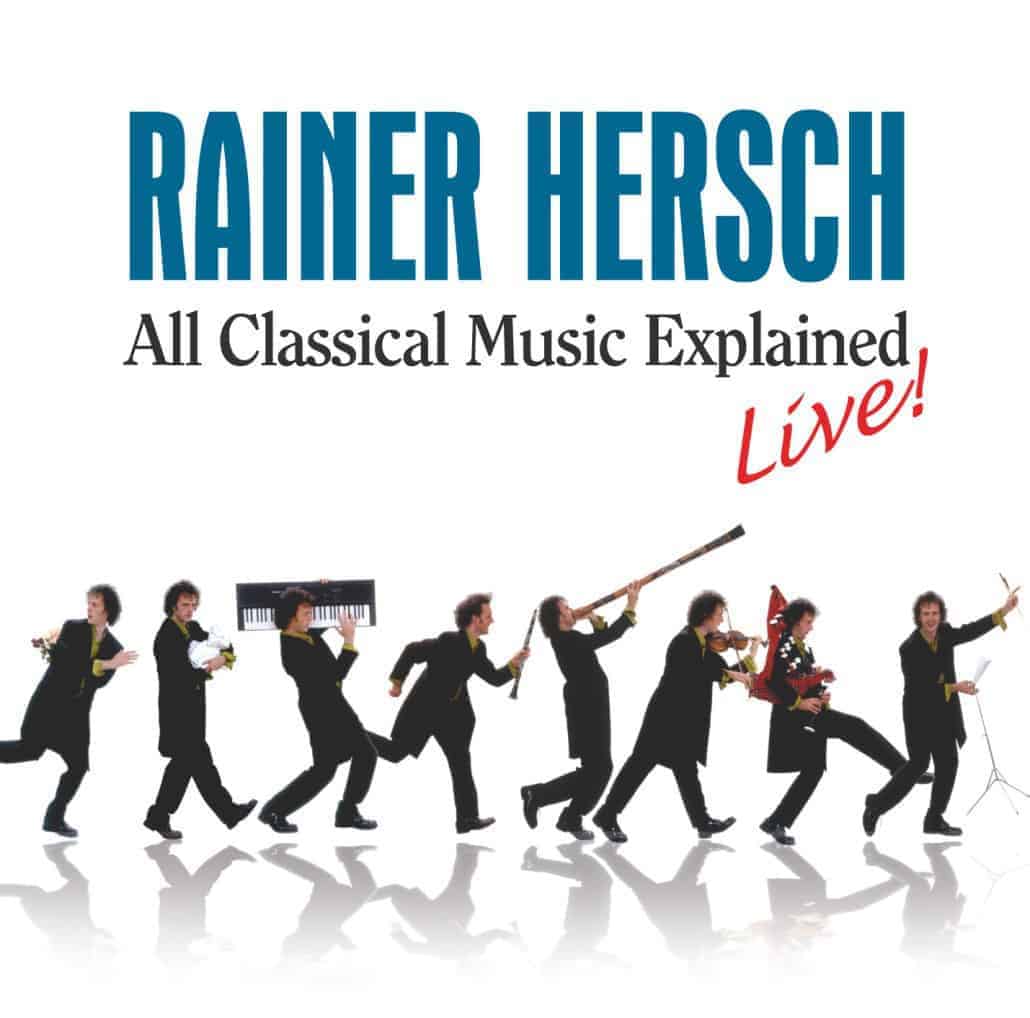 All Classical Music Explained (ACME)
SOLO SHOW
60 mins or extended 90 min show with interval
How to play the piano without practising, is the triangle hard?  Why is organ music so boring?  Since 1996 this brilliant stand-up comedy show with a difference has been entertaining audiences across the world. On stage is a microphone, a piano and a projector screen.  Enter the friendly, interactive style of Rainer Hersch which immediately engages the audience in an hilarious journey from 'Every Good Boy Deserves Football' to grand opera.  Nobody really needs to know anything and, frankly, nobody really learns anything but they have a hell of a time on the way. Performed internationally at major festivals internationally this show is a sure fire success for any occasion.
"Roll over Beethoven, here's Hersch" (Singapore Straits Times).
"A brilliant touch of comic madness" (Time Out, London)
Rainer Hersch's Victor Borge
SOLO SHOW
In one act: 70 mins no interval
In two acts: 90 mins plus interval (requires guest pianist)
Victor Borge was a brilliant pianist, virtuoso comedian and, at one point, the highest paid entertainer in the world. In Rainer Hersch's Victor Borge the Great Dane's hilarious act has been lovingly re-imagined for the 21st century by his natural successor, Rainer Hersch. This intriguing production was a total sellout at the Assembly Rooms in the 2004 Edinburgh Fringe Festival under the title Borge Again! In a full two-act version, he is also joined by a pianist for an hilarious duet rendition of Liszt's 2nd Hungarian Rhapsody. Performed at festivals, arts centres and theatres across Britain and internationally this is one of Rainer Hersch's most popular productions.
"It's hard to imagine that if the great Victor Borge himself had taken the stage, he would be more entertaining that Rainer Hersch's tear-streamingly funny tribute" Scotsman
"Victor Borge for a new generation"s The Sunday Time
Rainer Hersch as Guest Conductor
Rainer conducts your orchestra or choir
ORCHESTRA SHOW
From 10 minutes to full 90 concert with interval
Rehearsals: Professional Orchestra: 1 or 2 rehearsals. Amateur Orchestra/Choir: As required
Programmes available for chamber orchestra, symphony orchestra and symphony orchestra with choir.  These include holiday and themed programmes. Full details on request.
A trained and highly experienced conductor, Rainer has worked with musicians around the world, including amateur orchestras and choirs.  He rehearses, conducts and presents the entire concert, also appearing as piano soloist. "Brilliant, fascinating and different. Not a superbly funny comedian, he is also a truly great musician" (Isabella Lippi, Concertmaster, Elgin Symphony Orchestra, IL, USA). Orchestras with whom Rainer has performed: Auckland Philharmonia (NZ), Basel Kammerorchester (CH), City of Birmingham Symphony Orchestra (UK), Hannover Opera Orchestra (DE), Johann Strauss Orchestra (tours 2013, 2014, 2015 & 2016) (UK), Leicester Symphony Orchestra (amateur UK), Orquesta de Cámara de Nuevo León (MEX), Philharmonia Orchestra (UK), Royal Northern College of Music Symphony Orchestra (UK), St Petersburg Philharmonic Orchestra (RU), Tasmanian Symphony Orchestra (AUS), Tel Aviv Soloists (ISR), The Queensland Orchestra (AUS), Winnipeg Symphony Orchestra (CAN) …and many more.