Yes it's true but it's a secret Rainer Hersch wants you to keep under your hat: he's learning the VIOLA.  Here, in his own words, his story is revealed…

Now, this feels more than a bit like the vibe of an AA meeting but here goes: 'my name is Rainer and I'm a viola player'.  There – it's out in the open.
I'd like to pretend that it started gradually – you know: a bit of violin, joking around on a cello before getting mixed up with the heavy stuff but actually, I dived straight in.  It had been on my mind for while before I finally picked up the phone to a guy I know who lives near me and asked for lessons…
'Great', says he.  'What about 3 o'clock tomorrow afternoon?' 'OK but, you know, I haven't actually got a viola.' 'Oh, don't worry about that,' he says, puts the phone down and that was it.  Next day he was shoving a bit of wood under my chin and getting to bow open strings.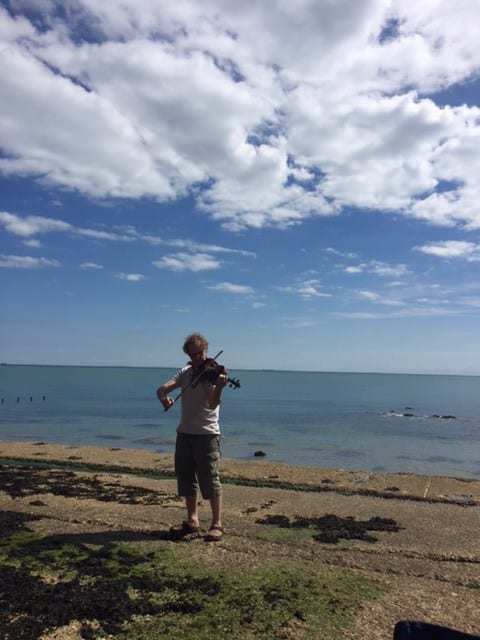 That was 18 months ago and now I'm addicted.  I pick it up every day for some scales and my latest piece.  And I am so hooked I have to set an alarm, not to start me practising but to remind me to stop.  
Sometimes I look in the mirror and wonder where did it all go wrong?  The viola is just the most unsexy instrument.  It sits in the middle of all the other instruments, never gets the tune and is the butt of jokes:
'What is the similarity between a viola player's fingers and lightning?  They never strike the same place twice'.
'A viola player runs, panicking back to her car.  Earlier in the day she had left the window open and her viola lying on the front seat.  When she gets back, the viola is still there and, lying next to it, another viola.'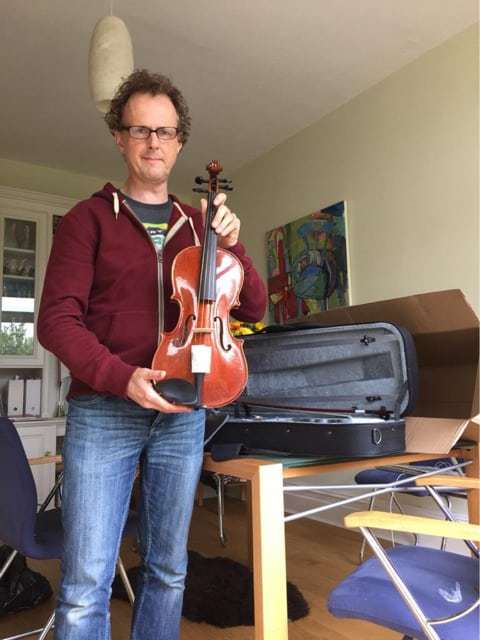 So why, then?  Well, here's the reason…
I wanted to see what it was like to actually play in an orchestra under someone else's baton and if you play the viola, you are guaranteed a place.  Every orchestra needs them but none ever have enough.  No matter how terrible you are, conductors will fall on their knees and worship the ground you walk on 'YOU HAVE COME TO PLAY THE VIOLA – HAL-LE-LU-JAH!'
But, in spite of these rather mercenary reasons, I really have grown fond of my ugly duckling.  I surf the net in search of viola porn – instruments for sale or music I could learn when I get a bit better.  I'm about Grade 6 – quite advanced for my viola age but I wasn't exactly starting from nothing.  And, yes, I joined a local string orchestra and sit there, trying to figure out what the conductor wants just like viola players in other orchestras probably do about me.  I have slowly improved my intonation and bowing so that I even led the entire section at the rehearsal last week.  (OK, all the other violas players were away but it was a taste of life at the top).
Here's the view from the violas – exciting isn't it!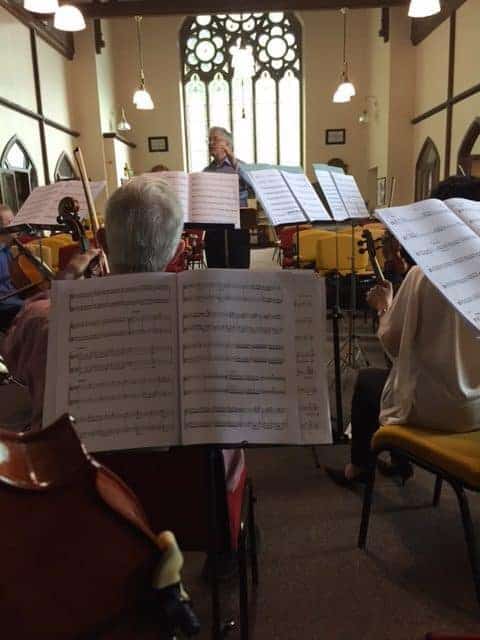 So, that's my embarrassing secret:
VIOLARING…
…with strangers and in public. 
I am not proud. 
But it could be worse – it could have been the BAGPIPES!