Das Rainer Hersch Orkestra
Auf der Bühne: 9-15 Musiker + Rainer Hersch
Dauer: Kurzprogramm: 60 Min ohne Pause. Vollprogramm: ein komplettes Konzert von 90 Min plus Pause
Brillanter Komediant und Meisterdirigent Rainer Hersch betritt die Bühne mit seinem Orkestra genialer Virtuosen. Mit Musik, stand-up Comedy und Rainer's wunderbaren Arrangements der Klassiker von Tchaikovsky bis Titanic, bezaubern sie Ihr Publikum mit einem unvergesslichem Abend aus Lachen und großartiger Musik. 11 Millionen Aufrufe auf YouTube können sich nicht irren! Ein sehr populärer Höhepunkt ist immer wenn Rainer einen Zuschauer auf die Bühne bittet um das Orkestra zu dirigieren – mit sehr lustigen Ergebnissen.
"So eine Show haben Sie noch nie gesehen" Edinburgh Evening News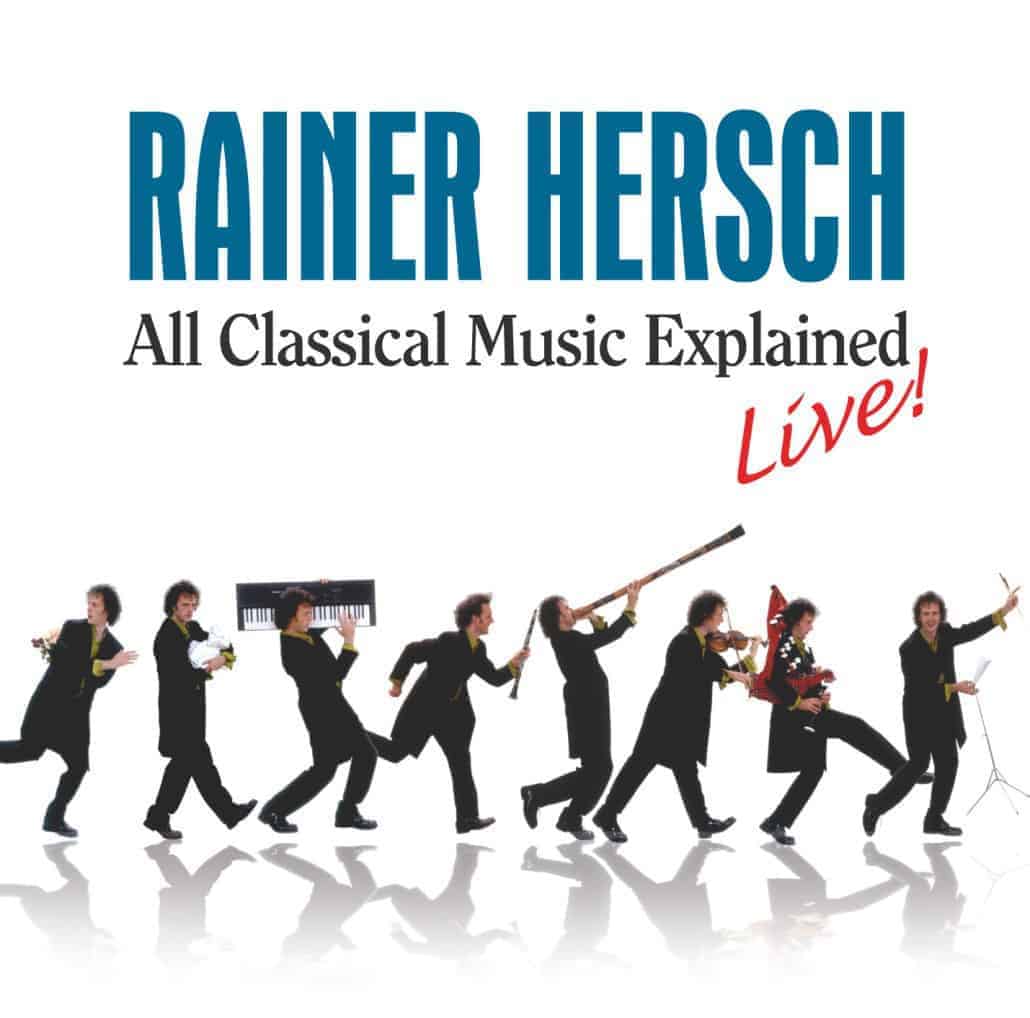 Klassische Musik für Dum Dum Dum Dummies
Auf der Bühne: Rainer Hersch solo
Dauer: Kurzprogramm: 60 Min ohne Pause. Vollprogramm: 90 Min plus Pause
Endlich – die viel zu ernsthafte Welt der klassischen Musik wird mit stand-up Comedy entschleiert: 'Was macht ein Dirigent eigentlich?', 'Was hat ABBA von Mozart geklaut?' 'Warum ist Orgelmusik so langweilig?'. Mit Mikrofon, Klavier und Leinwand präsentiert Rainer Hersch alle Antworten und im unvergesslichen Stil. Ob blutiger Anfänger oder versierter Kenner, alle werden Opfer seiner einzigartigen Kunst.
Rainer Hersch's Victor Borge
SOLO SHOW
In one act: 70 mins no interval
In two acts: 90 mins plus interval (requires guest pianist)
Victor Borge was a brilliant pianist, virtuoso comedian and, at one point, the highest paid entertainer in the world. In Rainer Hersch's Victor Borge the Great Dane's hilarious act has been lovingly re-imagined for the 21st century by his natural successor, Rainer Hersch. This intriguing production was a total sellout at the Assembly Rooms in the 2004 Edinburgh Fringe Festival under the title Borge Again! In a full two-act version, he is also joined by a pianist for an hilarious duet rendition of Liszt's 2nd Hungarian Rhapsody. Performed at festivals, arts centres and theatres across Britain and internationally this is one of Rainer Hersch's most popular productions.
"It's hard to imagine that if the great Victor Borge himself had taken the stage, he would be more entertaining that Rainer Hersch's tear-streamingly funny tribute" Scotsman
"Victor Borge for a new generation" The Sunday Times
Rainer Hersch as Guest Conductor
Rainer conducts your orchestra or choir
ORCHESTRA SHOW
From 10 minutes to full 90 concert with interval

Rehearsals: Professional Orchestra: 1 or 2 rehearsals. Amateur Orchestra/Choir: As required

Programmes available for chamber orchestra, symphony orchestra and symphony orchestra with choir.  These include holiday and themed programmes. Full details on request.
A trained and highly experienced conductor, Rainer has worked with musicians around the world, including amateur orchestras and choirs.  He rehearses, conducts and presents the entire concert, also appearing as piano soloist. "Brilliant, fascinating and different. Not a superbly funny comedian, he is also a truly great musician" (Isabella Lippi, Concertmaster, Elgin Symphony Orchestra, IL, USA). Orchestras with whom Rainer has performed: Auckland Philharmonia (NZ), Basel Kammerorchester (CH), City of Birmingham Symphony Orchestra (UK), Hannover Opera Orchestra (DE), Johann Strauss Orchestra (tours 2013, 2014, 2015 & 2016) (UK), Leicester Symphony Orchestra (amateur UK), Orquesta de Cámara de Nuevo León (MEX), Philharmonia Orchestra (UK), Royal Northern College of Music Symphony Orchestra (UK), St Petersburg Philharmonic Orchestra (RU), Tasmanian Symphony Orchestra (AUS), Tel Aviv Soloists (ISR), The Queensland Orchestra (AUS), Winnipeg Symphony Orchestra (CAN) …and many more.